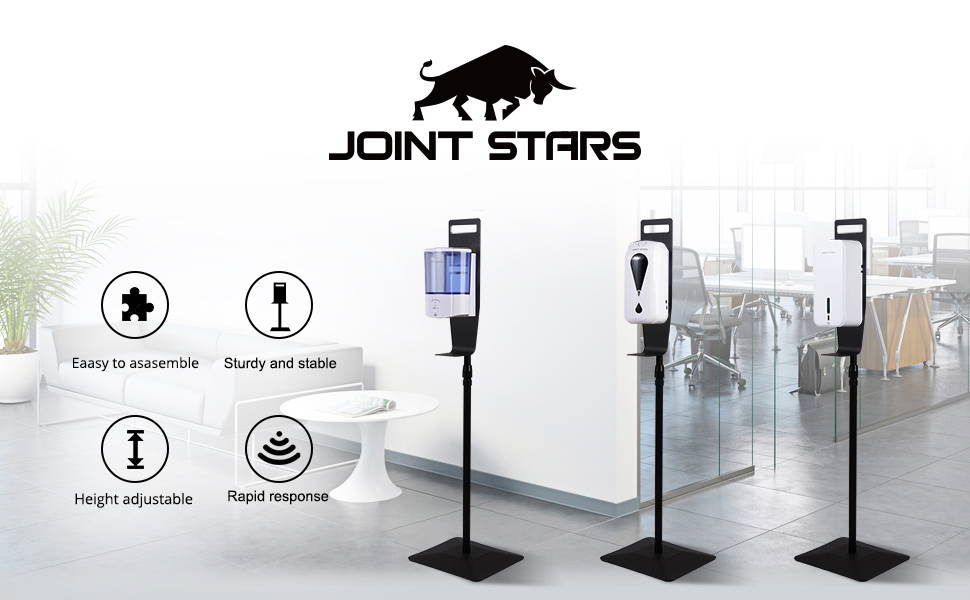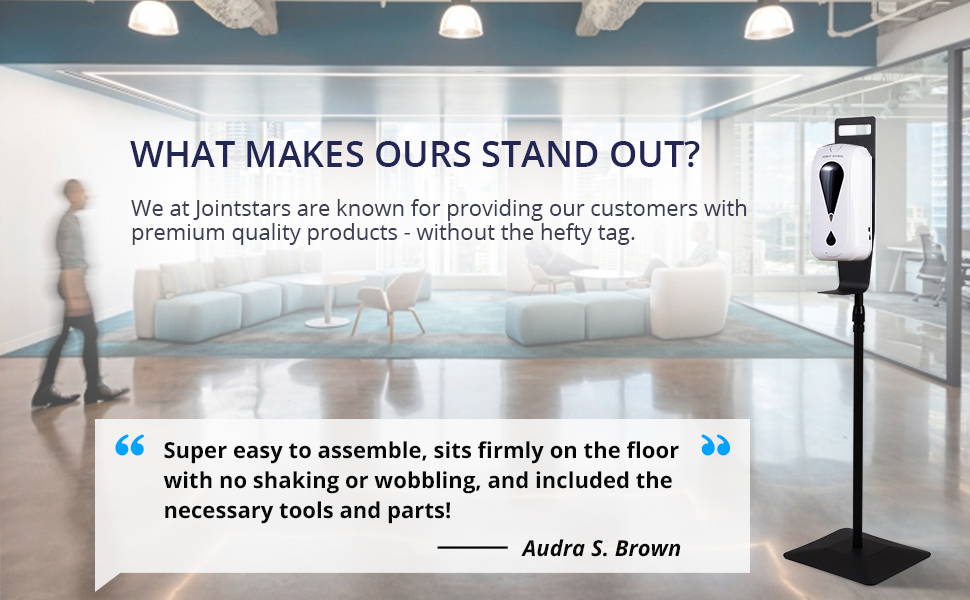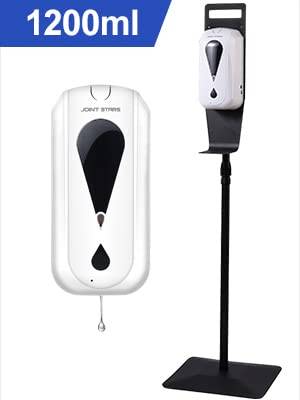 The Jointstars touchless soap dispenser provides a more convenient and safer way to wash your hands. Our wall mounted automatic soap dispenser comes with a high tech infrared motion technology system that can quickly detect and discharge its content into your hands in just 0.2 seconds. This makes our touch free soap dispenser a great tool to have not just at home, but also in commercial spaces - especially during this pandemic
AUTOMATIC SOAP DISPENSER
STABLE FRAME
EASY TO ASSEMBLE & INSTALL
TOUGH CASING & LARGE CAPACITY TANK
SATISFACTION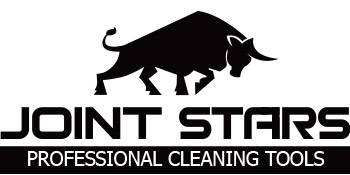 With hundreds of automatic soap dispensers in the market today, what makes ours stand out?
Better yet, why do we believe that the Jointstars Automatic Soap Dispenser is your best option?
It all boils down to quality, quantity, and functionality.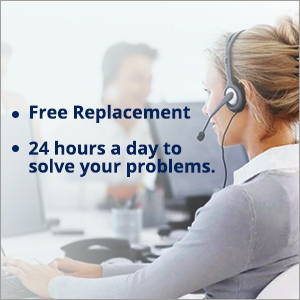 SATISFACTION
Free replacement for unlimited times within 3 months.
3 local customer support are on call 24 hours a day to solve your problems.
5000 products are stocked in local cities, ready for delivery.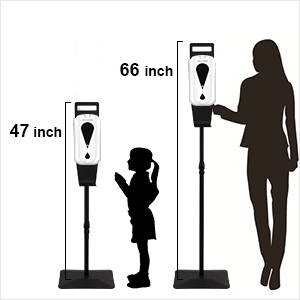 HEIGHT AGJUSTABLE
The sanitizer stand hand is tough and stable and can remain upright even when accidentally hit. Plus, our touch free soap dispenser can be adjusted from 35.4in to 58.3in for convenience.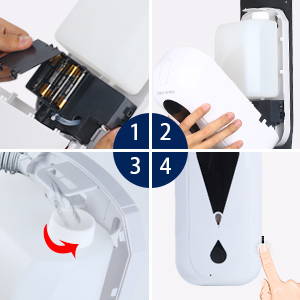 EASY TO INSTALL
Each purchase of our battery operated soap dispenser comes with everything you need to assemble it quickly and properly. It comes with a detailed and easy to understand manual.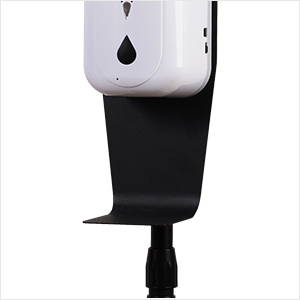 METAL DRIP CATCHER
The integrated metal tray can prevent the leaked sanitizer from falling on the ground, keeping the ground clean.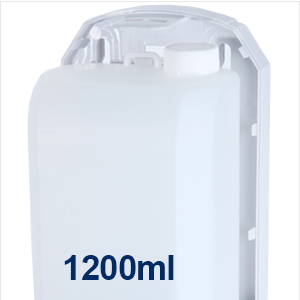 LARGE CAPACITY TANK
Our no touch soap dispenser comes with a huge 1200ml tank capacity. This allows each of our automatic hand soap dispenser to hold more liquid, thus minimizing the need to continuously refill its tank - even with continuous heavy use. The water tank of our electronic soap dispenser can hold and dispense any brand of Alcohol Gel Hand Sanitizer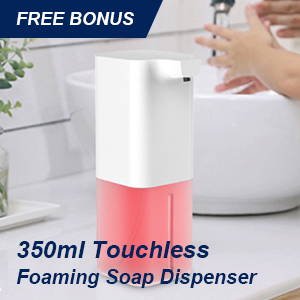 350ml Touchless Foaming Soap Dispenser
Automatic soap dispenser is built-in smart infrared motion activated sensor, fully automatic and touch-free operation, 0.25s rapid foaming brings intelligent experience while keeps you and your family hygiene and healthy
Model Number: A8334
Compatible Devices Include:
MacBook Pro (2015 / 2016 / 2017 / 2018 / 2019 / 2020)
MacBook Air (2018 / 2019)
XPS (13 inch / 15 inch)
Pixelbook (2017)
Incompatible Devices:
Nintendo Switch
Apple USB SuperDrive
Supported Systems:
Windows 10, 8, 7, Vista, XP, Mac OS X 10.6 or later, Linux 2.6.14 or Later
Notes
Only iPad Pros with iPad OS are compatible
Some 2.4 GHz wireless devices (such as wireless keyboards and mice) and USB 3.0 devices may not be supported.
Due to power output limitations of some laptops, it is recommended that you connect only one HDD/SSD at a time.
1. Can I Control Two Sign With One Remote?
Sorry, one of our remotes can only control one product.
2. How Is The Remote Powered? Do You Also Need To Charge It?
The remote control does not need to be recharged, just replace it with a battery. The battery type is a CR2032 battery.
3. How Do You Know When The Sign Is Fully Charged To Avoid Over Charging The Sign?
During the charging process, the indicator light on the side is red. When the battery is fully charged, the indicator light will turn green.
4. Are These Legal To Use On Your Windshield In California?
Of course, the color of our lights is a cool color close to white.
5. What Does This Light Look Like During The Day?
Its light is a cool white color that is close to white and can be seen clearly during the day, but it works better at night.
6. What Is The Range Of The Remote Control, For Example, I Put The Sign On The Front Of The Car, Can I Control It At The Tail?
Sure, the remote control can reach this distance no problem.
7. Does The Sign Display "Uber" And "Lyft" Separately Or Do Both Names Appear On The Sign St The Same Time?
No, it doesn't have switching function.
8. I Found The Little Lights On The Side Always Flashing. I Want To Know If This Is Normal?
Yes, it's an indicator that shows the light is working.
Costomers who bought this item also bought